Tuna the Tide Newsletter
Season 19, Volume 2 April 2015.
It looks like the pieces are finally in place for the 2015 fishing season. The season will start on April 18th. Fisherman will be allowed one fish from 28 to 36 inches OR one fish over forty inches, a true trophy. The general season will have a two fish limit with fish having to be over twenty inches, only one of which can be over 28 inches. Keeping fish can only be in the Main Bay south of the Brewerton Channel. This season will start May 16th. Come June 1st the entire Bay is open until December 15th. Two fish over 20 inches. Only one of which can be over 28 inches.
We will offer our standard trolling trips during the trophy season. Same price as last year. Catch and release fishing in the Eastern Bay as well as the Susquehanna Flats is also available if the fish show up. At times we can catch and release in the Eastern Bay and THEN go out and troll. Just remember if we have fish in the box coming back into the Eastern Bay to fish is not an option. Last season had some very good early season fishing. Both light tackle and trolling. Only time will tell for this season. Once we start weíll try and be more diligent about reports and pictures. We will keep the new Everglades either up Greenwood Creek or up at Tydings Park in Havre de Grace, depending on where the best fishing turns up. Stop by and see whatís happening at Annapolis Boat Sales. Walter and Bruce will be glad to hook you up. Also donít wait until the last minute to get your boat ready for the spring.
Shore Tackle and Custom Rods is stocking up. Donít wait for the empty peg to figure out whatís hot and whatís not during the season! Come in and talk to Billy or Joe and see what is happening. Or contact one of the pro staff guides to see what is going on out there.
Since we do a fair amount of catch and release now is a good time to talk about how we need to handle the fish. Have all cameras and hook removers handy and at the ready. If you donít have to net the fish, donít. Lip it and as the fish is coming out of the water support it underneath the belly. If you must use a net use a wet rubber net. Wet your hands. Donít let a fish flop around the deck. Hold it in the water until you are ready to take the picture. Remember, itís now the law that trollers prior to April 18th canít use stinger hooks and must fish barbless. Check with the DNR website to view the maps and current regulations regarding spring catch and release.
Captain Mark Galasso
Cell 410-310-1200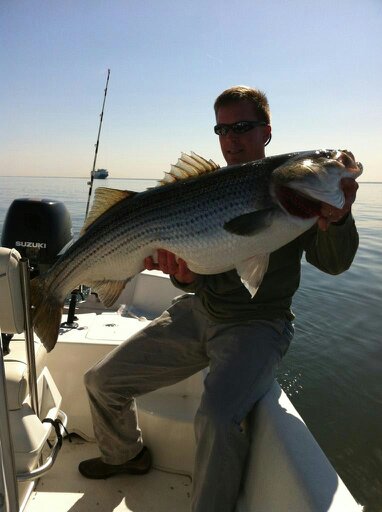 Guatemala March 2015
I was sitting in my office the other day paying some bills for some minor surgery I had a few days prior. My stomach was still a little tight from the forty or so stitches knitted across my abdomen. My cell phone started vibrating across my desk. I picked it up. My buddy Matt was on the other end. He told me he had a favor to ask. In the back of my mind I was thinking I would do just about anything for a box of the Rum Buns Mattís bakery produces. I hope this ďFavorĒ wasnít too far over the top. He told me he and his Dad were scheduled to leave a week from now to fish a tournament with the OCLTC in Guatemala. Something had come up and his Dad wasnít able to make it. And he wanted to know if I could go in his Dadís place. My mind immediately started running down the list of why I couldnít and why I could go. I said Iíd call right back. With my head still spinning I caught my wife in the kitchen and explained it to her. When she asked me why I was hesitating I called Matt right back. Iím in! Great. Weíll send you everything youíll need and we can meet and make sure you have the proper gear. I made my plane reservations. They asked for a Passport number. So I dug through my folders and actually found my Passport. Expired! Dam. I called and made an appointment in DC to get the new passport. The only appointment they had was three days prior to my flight. No choice. Things were lining up but it was going to be tight. So. Monday I drove to DC and applied for a new passport. Tuesday I went to the hospital and had my stitches removed. Wednesday I drove back to DC to pick up my passport and Thursday I got up at 2:30am and drove to the airport, flew to Miami and then on to Guatemala City. Hopped in a Van with a rod case and two suitcases along with a dozen other fisherman and headed to Casa Vieja Lodge on the Pacific Coast. We made a brief stop in Antigua to visit an old church and eyeball their world famous Jade. A neat little town. I was struck by the fact that although many of the people are impoverished ALL the teenagers were in Catholic school uniforms. We drove over the volcanic mountains and through the sugar fields in the two or three hour drive to the lodge on the Pacific Coastal Plane. I was struck by all the scenery. Natural beauty in a third world country. Donkeys and men carrying sugar cane logs being passed by huge flatbeds with the same cargo. Scores of people on scooters weaving in and out of fuel trucks and SUVs. Armed guards at every business that had expensive merchandise. Iím sure whoever has the riot gun franchise is pretty well to do.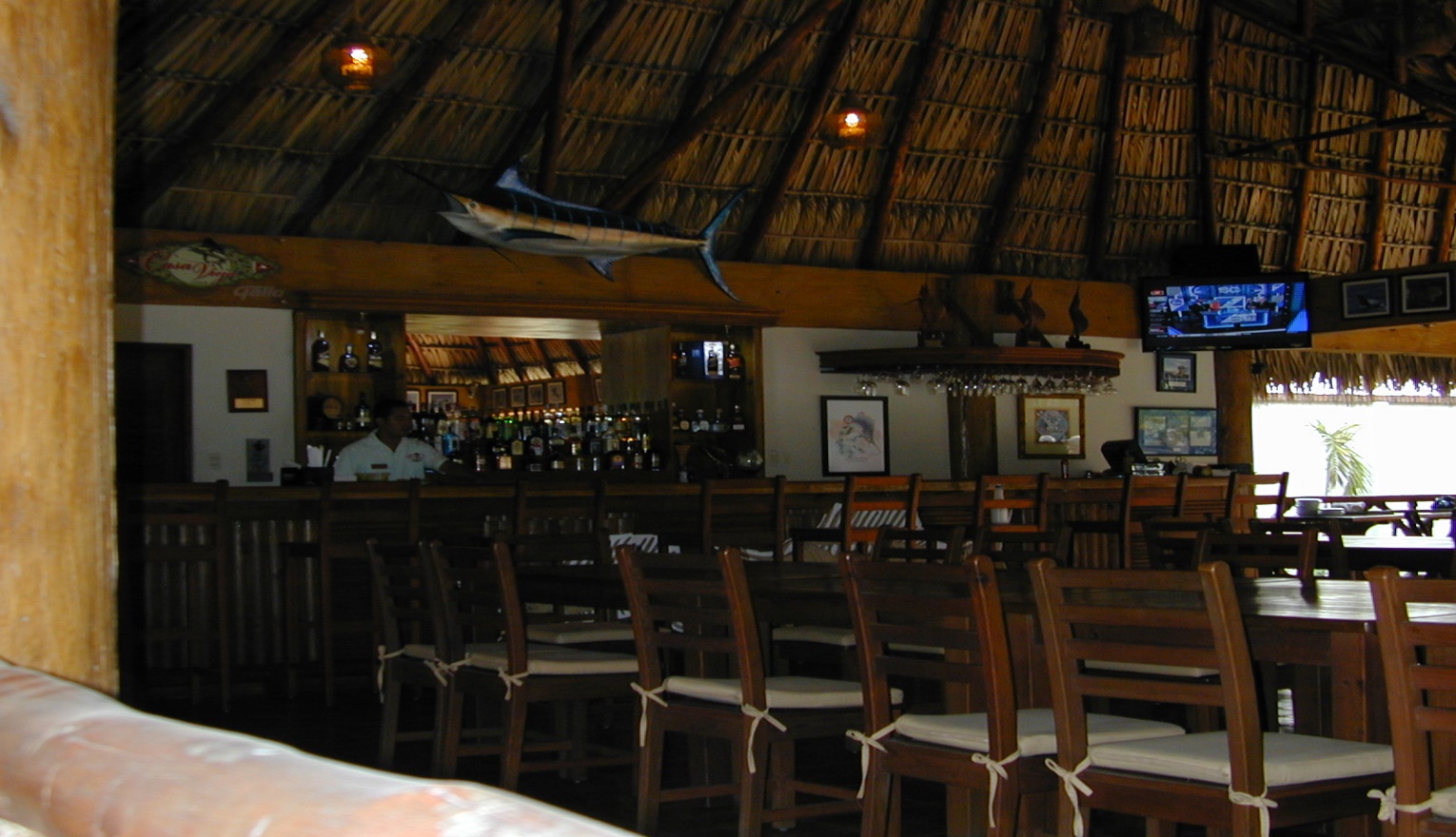 We pulled up at a small gated compound. The driver beeped his horn and a little eye level door opened. And then the gate to Paradise swung open! Casa Vieja Lodge. Elisa greeted us. Handed us all the ďdrink of the dayĒ, assigned us rooms and showed us around. The lodge is a small compound only a few miles from the boats. It is self-contained with a pool, bar, kitchen, immaculate rooms and an indoor and outdoor dining rooms. In four days I never had to ask for anything! As an example. For a wakeup call two women would knock on your door around 5:30am. A pot of strong Guatemalan coffee and all the fixens on a tray. Breakfast to be served in 30 minutes Senor. I canít say enough good things about Casa Vieja Lodge but this IS a FISHING Newsletter.
By the luck of the draw I got to fish with three friends on the first tournament day. Two of which were sporting Rods made by my buddies at Shore Tackle and Custom Rods. After a hearty breakfast we loaded in the vans and headed to the boats. All thirty two of us. The drive is less than ten minutes. The boats are all on one or two long floating docks just a couple miles from the inlet. So we hoped on the Makaira made introductions and headed into the pacific. Most all of the Captains speak fluent English and most of the mates speak far better English than we speak Spanish. In fact our Captain Jason was from Miami. So communication was never a problem. The boats were well maintained 36 to 40 footers with one Captain and two mates. The bulk of the Sailfish had moved a bit offshore so instead of 8 to 10 miles we ran close to 40. I had never caught a Sailfish or fished the tournament way so it was a learning experience. Each angler has two rods spooled with Ande Tournament #20 line. The boats supply leaders and terminal tackle. I think it was 15 ft. leaders. The boat spread was four teasers and four baits. Baits were single Ballyhoes nose wired to circle hooks. Some with cheek weights depending on the Captains preference. The stations were two long riggers and two flat lines. A boat teaser and a short rigger teaser is put out on each side. If a teaser brings in a fish the flat line station on that side can either drop back or come in to catch the fish on the teaser. The long rigger stations are pretty much set. The crews like to floss loop you in to the clip so you canít really change position anyway. Every thirty or sixty minutes you rotate positions clockwise. Lines out by 3:30pm. Once a fish is hooked the boat makes a wide turn in the direction of the fish. Unless your line is in danger of tangling up the angler who is fighting the fish you keep fishing in hopes of multiple hookups. AND IT HAPPENS A LOT! The first fish hooked has priority. Everything is timed. Since this was my first time I was all ears and heard a lot of different techniques. One thing everyone had in common was the drop back. Five to six seconds from the time the fish EATS it. Either free spool with the clicker on or off. I found when the bite was finicky it was best with the clicker off. But what do I know, Iím a rookie.
On the off day we went fly fishing. Another first for me for sails. Similar fishing except the fish are teased into your casting range. That range is longer for some than others. Drags are set on these big fly reels so that a strip strike is not needed. Keep the rod tip down and strike the fish the opposite way he goes on the take. And by all means keep the rod tip down. Your better reeling in slack than throwing a wrap on the rod tip when a hot fish takes off.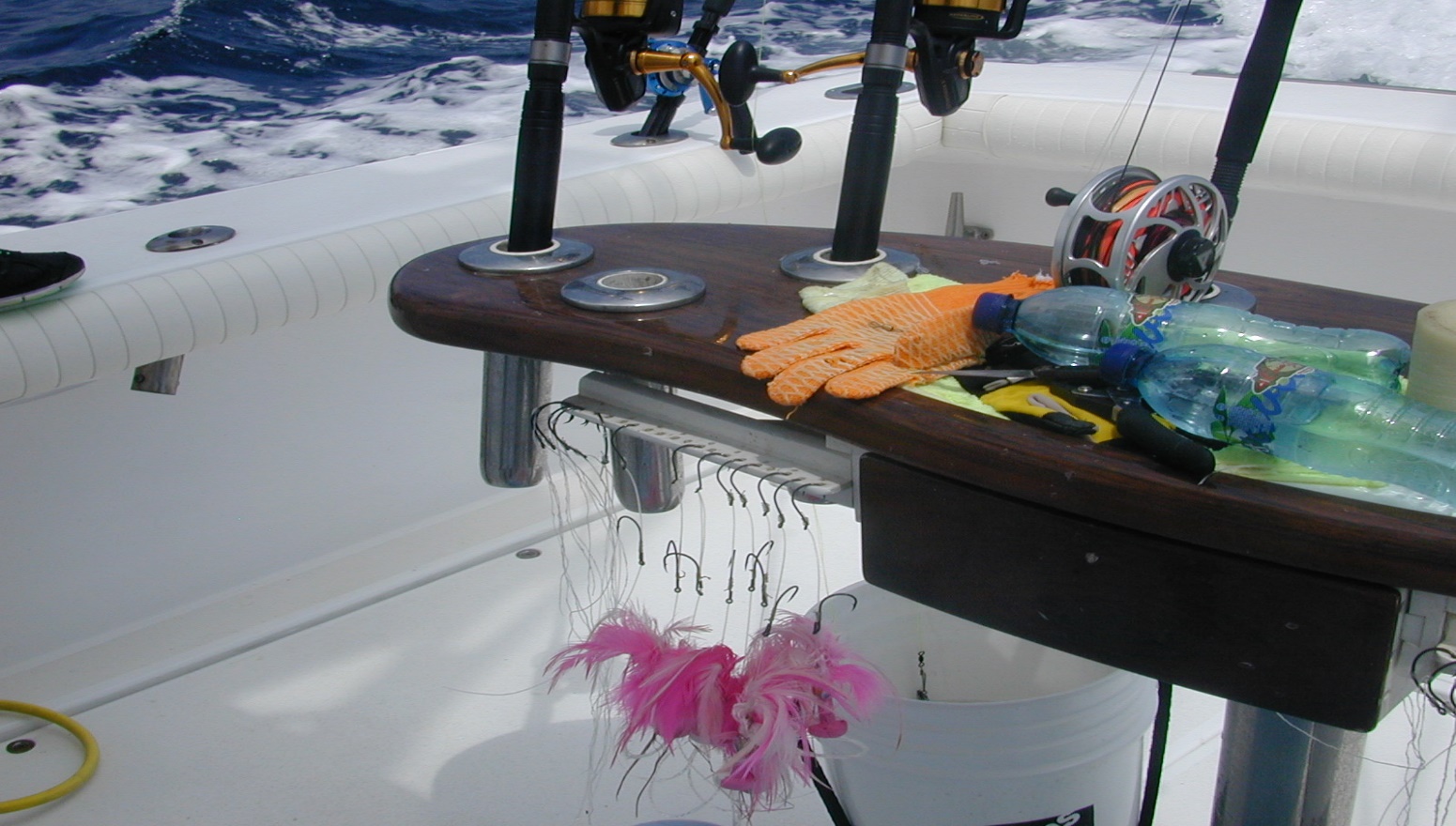 Fast forward to the fourth and last day of the tournament. By this time our 32 anglers had caught and released almost three hundred Sailfish and a Blue Marlin. Our boat on the fun day also caught a couple nice Yellowfin Tunas which we turned in for sashimi next to the pool as well as Tuna Burgers for lunch that day. (The mates supplied us with hot lunches as well as fresh fruit trays while we were fishing every day.) So itís one oíclock. The fish were around. But the bite was light. Lots of fish in the morning would bite but just nothing hot. We only had two hours to fish and had released ONE fish. And then it happened. As a couple of Captains later explained. There was just so much bait in the water the fish had become finicky. But as night was coming and there was not much moon the fish all of a sudden felt the need to feed!! We had all eight boats in a couple mile radius as well as a few other charter boats. We watched a boat hook next to us up. The fish leaped a good five feet out of the water. The boat started itís long slow circle. Another angler on the same boat hooked up. Then one of our anglers hooked up. Our Captain started his swing and another one of our anglers hooked up. We had two fish going in opposite directions. I was on a rigger so I started winding in as fast as I could so as not to foul one of the other lines. I was just getting ready to lift my line out of the water and I heard the Captain yell NO!!. I put it in free spool and the line went singing out. One, two, three, fourÖ. Engage. Since the other two fish had priority all I could do is wait. Fish one was almost in but the other guy was running out of line. (Six pound drags are the norm.) And another boat with two fish on was backing into us! It would be a miracle if I got mine. I looked up and could see all the other boats. Black smoke billowing out from most of them as they twisted and turned to boat fish. I think the only other guy that can rival the riot gun salesman is the one who sells transmissions. Fish were jumping everywhere. Sometimes it was hard to tell who was fighting which fish. In that two hours of chaos our boat released 20 more Sailfish. And the rest of the fleet did the same. On final tally in four days of fishing our 32 anglers caught over 420 Sailfish, two Yellowfin Tuna, one large Dorado and Two Blue Marlin. Props to the guy who caught the 450 pound Blue on 20lb Test and the guy that caught the big Sail on 4lb.
When we got back to the lodge that afternoon six of us had to be thrown in the pool for angling firsts. In my case I caught my first Pacific Sailfish. I also caught my first Sailfish on a fly. I was almost too tired for dinner. But being Italian thatís just not an option. And the way they fed us. Oh Mi Dios!!! And by the way as we stepped out of the van we learned it was MOJITO day!!
So now Iím back home a few days later. My partner Matt won the top Angler award. He and I won top team and I caught my first 15 Sailfish. Itís snowing out and my tan/sunburn is peeling off like a shedding snake. I had the time of my life. I need to thank the crew at Casa Vieja Lodge. In particular Elisa Badillo Abascal and Kristen Salazar as well as their crews and the Boat Captains and Crews. Their kindness and PATIENCE made the trip a dream come true. I also need to thank my Partner Matt Barazatto and the OCLTC. I never really felt like a guest. I felt like a member from the very first minute. Now I REALLY have spring fever.