Tuna the Tide Newsletter
Season 19, Volume 1, March 2015
Thank you for your interest in receiving this newsletter. I hope to make it both informative and entertaining. As of this writing there is not a lot to report. The Markley stands as the only boat left in the water at the Big Owls Tiki Bar. Two heat lamps on either side of the engine keep her insides warm so her pipes donít freeze. Sounds like whiskey. She looks lonely locked in the ice. Our new Everglades sits on the trailer next to the garage. Ice and snow are helping to keep it insulated in this frigid cold. My office looks like a tackle store. Boxes of tackle, rods, reels you name it fill the room to eye level.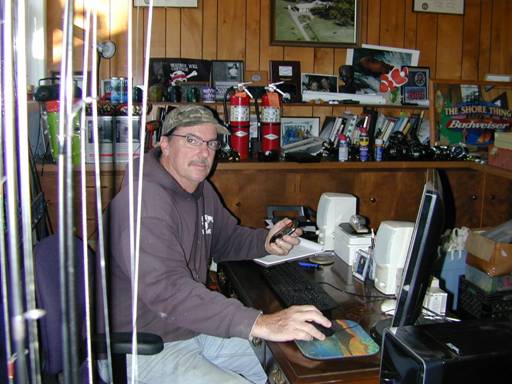 I hope as we actually start fishing in April these newsletters will give more of an overview of what we are doing to catch fish. But for March weíll have to be satisfied as to what weíre doing to ďget readyĒ to catch fish. Probably the biggest improvement to our Charter Service this year was the purchase of a 2015 Everglades 243CC with the 300 Yamaha 4 stroke. The boat is a machine. It can get us to the fish quickly and comfortably. And when we get there it provides a stable fishing platform. The boat is as rigged as possible for shallow water ventures. The basic boat only draws 16 inches of water. With the GPS guided trolling motor and the Power Pole Shallow water anchor we can sneak up on even the spookiest of fish. For your safety the boat is equipped with radar, GPS, VHF and fish finder provided by Garmin Electronics. We will provide fishing and crabbing trips on this boat for up to 4 people. It should help us to get back to our shallow water roots. Weíve come a long way since the days when we threw small bucktails at exposed stumps off Bennettís Point in the early fall from our twelve foot Sears Gamefisher. We want to thank our friends and partners at Annapolis Boat Sales for ďHooking Us UpĒ.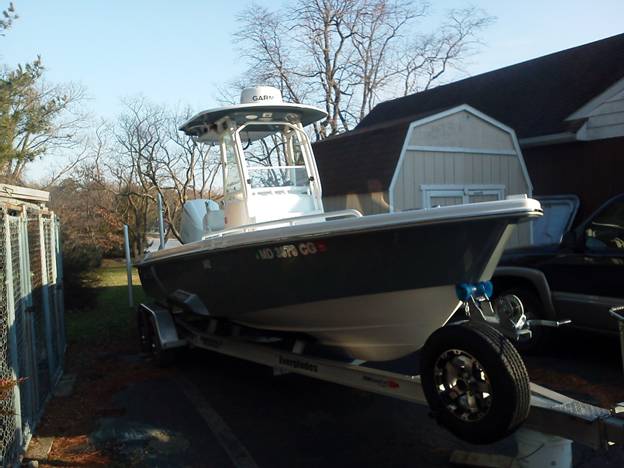 As those of you who have fished with us before know we provide some of the best gear available. All our rods are custom built by Shore Tackle and Custom Rods right here in Kent Narrows. They also supply most of our tackle. Billy and Joe got to fish with Walter (ABS) and Frosty and me on an Everglades last September for the CCA Speckled Trout and Redfish Tournament down in Crisfield. We learned a couple of things. First, there were very few Redfish and Second that you need a very stable boat that can get in VERY shallow water after crossing very rough open water. The Glades was perfect. Frosty did catch the second largest Spec of the tournament on a Crocodile Spoon. Billy and Joe have been at the forefront of designing and building rods over the past decade. And it is truly mind boggling how much actually goes into producing a specific rod to perform a specific task. While we were in Crisfield we had the opportunity to put some new rods with microwave guides through their paces. We were fan casting in the shallow waters just south of Smith Island. It was windy so we had a good drift. When prospecting by fan casting in open shallow water the trick is to cast with the drift from dead off the bow to dead off the stern. That way you can cover a lot of ground before you drift into it and spook fish. If you find a little pod of fish you can drop the power pole and hover, or hover by using the anchor feature on your trolling motor. The bottom line is itís a lot of casting. The rods with the microwave guides not only cast with much less effort but they cast with more distance. That serves two purposes. The more distance the greater the area fanned before the fish spook. And second, and almost as important, you can still lift a beer to your mouth when you get back to the dock because your arms not locked up. As soon as we got back to Kent Narrows I had a few made for my boat. Weíve got to have the best. Canít wait to fish top water this season!
Those of you that have fished with us before know we spend a lot of time jigging on both boats. Even trolling trips sometimes turn into jigging trips. In fact trolling is a great way to find fish we can jig on. I always have a full set of jigging rods rigged with Soft Plastic jigs by Bustíem Baits. When there are a lot of Blues around we use Bucktails (Lil Jimmies) or Metal Jigs (Lil Bunker Spoons) by Specialized Baits. These companies have gone to great lengths to produce lures that fit our needs, from hook sizes and gaps to colors and lure sizes.
We have done a little work on our website. For your convenience we now have a calendar that will be updated daily so you can see what days we have available. We are also going to change our picture gallery to have a ďrecently caught sectionĒ. It will tie in with this newsletter in the future so you can not only get a written report on what we are doing but you can go to the website and get the pretty pictures as well.
This will be our nineteenth season fishing out of Kent Narrows. It will be my fortieth year fishing the Eastern Bay. For those of you that havenít fished with us visit our website. And I guess the popular thing is ďLike us on FacebookĒ. You can literally walk to three nice hotels, numerous restaurants and waterfront watering holes from our slip. The Big Owls Tiki Bar is literally an armís length from the boat. They should be opening around St. Pattyís Day weather permitting. Weíll start running cruises and scouting trips shortly thereafter. We try and offer a full range of services. Cruises by the hour, crabbing trips and full and half day fishing trips. Usually we only do one trip a day so our hours are flexible. This year we are also going to offer walk on trips during the week. If you have a date in mind call or email us and weíll try and put something together. We work with numerous other Captains so there is no group to large or to small.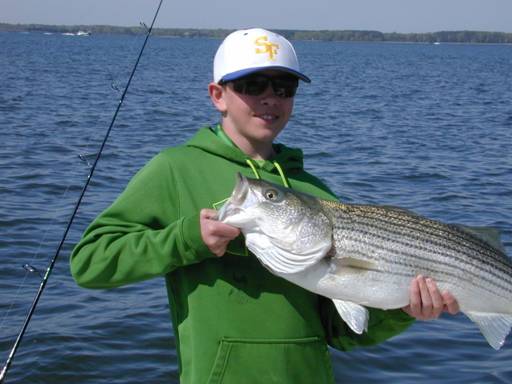 Just to summarize last year quickly. We didnít fish the Susquehanna Flats, though if the fish show we are ready to do so this year. We had a great trophy season. This year it will start on April 18th. It will be one fish with the size limits still to be determined. Last year we had plenty of good fishing most of the summer. Our general season will start again on June 1st. The fish moved in and out of shallow and deep water and sometimes the pattern took a little while to catch on to. I donít see that there will be much difference this year. We do know however the size limit this year will increase to two fish over twenty inches. Based on the techniques we utilize this shouldnít make much difference. I can only hope everyone uses careful catch and release of all the fish we will be culling through. Last summer I had the opportunity to chase large Flounder off the Coast of Delaware. It was a blast. If I can figure out how to offer a few charters out of Indian River I will. Probably mid to late summer. Stay Tuned! We had a great fall around Kent Island last season so I didnít go to the CBBT. It didnít sound like we missed anything. However, a few of the light tackle guides that worked farther north found plenty of fish well into late December. All the way up to Smith Point. Hopefully the weather will cooperate and we can take advantage of that fishery next season. So there it is. Hopefully weíll get to see you this year and create some long lasting memories for us all. (Good ones I mean!!) Iím going to close this newsletter (as I hope to with all the following ones) with a short story. Now comes the entertainment part. This was an email I actually sent to my mother. Yup, Iím still a mommaís boy. Thanks for listening.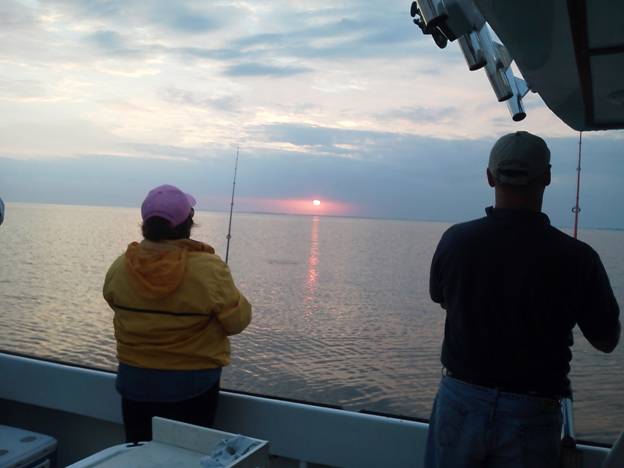 Captain Mark Galasso
Cell 410-310-1200
Fishing Guide 101
I wrote this to cheer up my Mom who, at the time, had just been diagnosed with breast cancer. I think she got a kick out of it. Unfortunately itís all true. So here goesÖ.
Dear Mom,
Everyone keeps telling me how lucky I am to be a Charterboat Captain. Getting paid to do the thing I enjoy most in life, catching fish. The joke in our fishing community is ours is the second oldest profession. Obviously the oldest profession is not legal at this time and I donít think I could ever be professional doing something like that anyway. But I digress.
If one could make a fortune getting paid to fish everyone would do it. So Iíve been told. On those beautiful warm, calm sunny days when the fish are practically jumping into the boat and everyone is happy doing what I do just canít be beat. However, charters like the one I had the other day give me real insight into why everyone isnít doing it.
My day really starts the day before an actual charter. I monitor weather reports. The CBOFS wind vector report is my favorite. It gives detailed wind reports over a 24 hour cycle (now forty eight). Itís pretty darn accurate. I also watch the weather channel and call up the NOAA reports for our area. If I havenít fished for a couple of days I call up a few Captains I know to see how and where the fish are biting. It can save me a lot of fuel the next day. And with fuel being more expensive than gold, but not as expensive as bottled water, thatís important. The newest and most accurate fish finder in every captainís arsenal is now a cell phone.
Well the other evening was a typical one. I made my calls and it turned out the fish were biting pretty good. And as a bonus they were biting pretty close to home. I was on the computer at the time so I went to the NOAA website as well as the CBOFS site. A ďfreshening breezeĒ was being called for starting just before sunrise. A quick check out the window in my office revealed a star studded sky behind dead still trees. Not a breath of air. I flipped on the weather channel to see what they had to say. I was a bit early for the ďLocal WeatherĒ so I had to listen to Jim ďFrickenĒ Cantore talk about his experiences in the eye of the latest hurricane. It must have been quite a blow because it looks like it blew all his hair off. When the local weather finally showed ďon the EightsĒ it mentioned a slight drizzle and fog in the morning with light and variable winds out of the east. Sounds good to me. I called my party for the morning and told them it was a go. They questioned the rain a bit but I assured them the boat was covered, the fish were biting and the small amount of rain the experts were calling for was a non-issue. By this time it was 9:00pm and since I had to be up by 5:45am I went to bed.
I donít sleep well the night before a charter. I guess I start to formulate a game plan in my sleep for the next day. Itís nice to have a plan but I think a good nightís sleep might serve me better. So I spent the rest of this night in that twilight haze one gets into. Some call it a long power nap, others just a restless sleep. So between my five trips to the bathroom, my planning and my listening to the wife snoring letís just say I didnít get much sleep. Though in the wifeís defense she says I snore as well. But I canít say Iíve ever heard it. Iím sure I didnít snore this night since I didnít sleep.
I must have dozed off though because I was awakened by two alarm clocks. I donít trust the electric one so I also set a wind up as a spare just in case the power goes out. It sounds like loud rock music with too much cow bells when the both go off. I canít believe it doesnít wake the wife.
Anyway I went through my normal routine while the wife kept purring wrapped up in a warm comforter, the cat snuggled next to her half buried face. I jumped in the shower. Cold I might add since the hot water heater only works sometimes, but not this time. Someday Iíll fix it. Which is what I thought the last time I took a cold shower. I brushed my teeth and took my morning constitutional (sorry), got dressed and went downstairs. I poured myself some iced tea, took my vitamins and made myself the usual peanut butter and honey sandwich for the road. I went out to the garage to load ice. The sun hadnít come up yet. I tripped over the cat as I walked through the office. She shrieked, but wouldnít get out of my way. I opened the garage door and the cold wet blast hit me like getting zinged with a wet towel. I could see the shadows of the trees dancing across the driveway. HOLY %@*&!! I expected to see Jim ďFrickenĒ Cantore standing in the spotlight! Puddles of water with whitecaps pockmarked the driveway. I ran back into the house and tried to call my party. NO ANSWER. I remembered they were driving down from Philly and probably left hours ago. Oh well. Nothing to do now but load ice and head for the boat.
I arrived at the boat about twenty minutes later just as the visibility started to improve with the rising sun. Red sky in the morning sailors take warning. What about a black sky? That canít be good. I took the long walk down the short pier. The boat was violently rocking in itís slip. The cockpit was full of Seagull Pooh and straw. I think the straw was part of the roof of the Tiki Bar thirty feet away. The Pooh a mixture of partially digested fish and day old bread from the restaurant dumpster next door. Bread that was probably sold for three bucks a slice the day before lay scattered all over my engine box and cockpit floor. Dirty bird feathers were blowing everywhere in the howling wind. I could only wonder if the Gulls got their feast in before the hurricane hit. I loaded my ice and hosed off the mess. Seemed kind of funny at the time, hosing down the boat in a squall. I was already standing in front of natureís pressure washer!
I saw headlights heading toward the parking lot. It must be my guys since no one else was around. Three cars with Pennsylvania tags and adorned with Eagles stickers. They parked but no one got out. $#*&! I timed my leap and jumped up on the dock. I walked over to the first car and waited until they rolled down the tinted window. ďHi, you must be my party.Ē I gleefully said. ďHi, you must be nuts.Ē they somberly replied. Yea, sorry. Wouldnít you just like to shoot the weather man. A big burley man in the back popped me the inevitable question. ďIs it fishable?Ē Itís funny. Almost anything is fishable if you donít mind danger, intrigue and discomfort. I mean people climb Mount Everest, jump out of airplanes or go into politics for fun. Come on. In fact I usually watch The Perfect Storm or Deadliest Catch the night before a day like this. It just never seems all that rough the next day. Yeah, it wonít be fun but itís fishable I replied. Next thing I know Iím leading a procession of men carrying coolers down the dock weaving in and out of the remaining piles of bird pooh still on the dock. Funny how people over pack for a day on the water. I timed the swells and jumped down into the cockpit. They proceeded to pass me down the coolers. All heavy I might add. I asked what was in the first one. A habit Iíve acquired to make sure people donít sneak Bananas on board. Beer was the reply. Second cooler. Beer. Third. Beer. Fourth. Beer and Whiskey. Fifth. Beer. Sixth. (The smallest one.) Food. Thank God. Seventh. Hey wait a minute you have to many guys. Oh yeah, sorry, Timís Uncle Joe decided to come at the last minute. Guys listen I can only take six. Coast Guard regulations. Silence. And by the way, did anyone bring anything to drink other than alcohol? Silence. Finally Uncle Joe broke the silence. ďWhat the #%$*, no mixers?Ē Iíll stay in the car. That takes care of that I thought. Everyone except Uncle Joe jumped into the boat. I gathered everyoneís attention. Guys, Sorry about Uncle Joe. Just a few notes on safety. Life jackets are underneath the seats in the cabin. Please keep your hands inboard when we are leaving or coming into the slip. Itís obviously going to be rough so always keep one hand free for the boat. As Iím saying it Iím doing a mental hand count. One for the boat. One for the beer. One for the rod. I hope these guys are from Three Mile Island and may actually have three hands. I fire up the boat, turn on the electronics, pull out of the slip and head south. We can see Uncle Joe waving as his form fades away behind us. Lucky Bastard! Itís actually rough in Kent Narrows. A thirty knot noríeaster churning up whitecaps in what should be ďthe sheltered water.Ē An incoming tide is just pushing the water against the wind. I sure hope the fishing is better than the weather. My surveillance reports have good fishing just a few miles south of Kent Narrows in the Eastern Bay. Should only be a two to three foot chop down there. ďFishable.Ē The windshield wipers are thumping in all directions trying, but failing, to keep up with the rain and spray. Water is coming through the front window even though I have it locked down as tight as it will go. Water is soaking the foam mattress on the cot down below and we havenít even left the no wake zone. $%&#! The bilge pump light is flickering on and off. Luckily itís for the fore pump. If the stern pump starts going were in trouble. $%&*! My guy are all huddled on the engine box. What now provides them a modicum of comfort was only a couple of hours ago a dining room table for countless seagulls and crows. No oneís puking yet. But we still have eight hours to go. $@&*! I canít troll because the winds to strong and the lines will have too much of a bow to set a hook. Jigging will be even worse because we have to drift dead with the wind and against the tide. #%@$! Lucky Uncle Joe. Iím starting to develop a bad attitude.
Where can I catch fish out of the wind? If I have to go much below Parsons Island Iím toast. I flick on the fish finder and hope for the best. Nothing but blue screen. A small flock of birds are starting to work about a mile south. I head in their direction. I wonder if theyíre the ones that trashed my boat last night. They better show me something those dirty white Bastards. Everyone in the back still seems ok. In fact their already drinking beer at 7:30am. And by the look of my waste bucket their pretty proficient at it. I can only hope they can jig as well as they can drink. As I near the birds I can see a few small splashes.
Waves are making the boat bob like a cork. Everyone is either seated or locked in place. I put the boat in neutral just to see how sheíll settle. I know the engine scares the fish but Iím afraid to turn it off in case I have to maneuver to get out of trouble. Darn, itís rough. I pick out the most stable looking guys and pass out three rods with jigs already tied on. Half ounce heads with five inch rubber tails. I give them a quick lesson in jigging. Jigging 101. Thirty seconds. You know. Small quick jerks and slowwwwwly lower the rod after each jerk. Fish usually hit on the fall. Hopefully they get it. The rain and salt spray has made the deck an ice skating rink. Hold on! Really, when itís this rough the boat does the jigging for you. Just donít drop the rod. I donít want to have explain to Billy and Joe at Shore Tackle why I need another rod. They lower the jigs over the side and immediately get three bites. But no hookups. When the guys reel them up we see all three plastics cleanly cut off right behind the hook. Blues. #$@%! There goes a couple bucks. We try again. Same results. I think the tackle stores have a hatchery system to keep the Bluefish populations up. Time to move.
Just as we start to pull away I notice a few good marks on the depth finder close to the bottom. One short cast and I have our first solid hookup. Turns out to be our first keeper Rock, about twenty inches. Rogue waves! @%#$!!! I lunge for the cabin and turn the boat into them. Iím not quick enough. Coolers go sliding across the deck. One with a passenger, who drops his partially open beer only to have it shoot foam all over his buddies. Things in the cabin are all thrown to the floor. My brand new trolling rods are on the floor lodged against the head door. Hope there isnít anyone in there! I straighten her out into the waves and engage the autopilot. This gives me a chance to clean up the mess. I check on the crew. Everyoneís fine except one guy who looks a little green. I reason heíll be our first puker.
The morning progresses like this. My guys take turns fishing because I canít leave the cabin and with the spray curtains down only three at a time can fish the windward side of the boat. The green guy is still drinking with his buddies even though his face is changing colors as fast a Chameleon on acid. Iím amazed he hasnít blown chunks yet. They must have cast iron stomachs to keep down all that Iron City Stuff. We manage to catch a few more keeper Rock as well as a few small Bluefish. So the day isnít a total disaster. I think they call this full contact fishing. Itís also full contact drinking. I notice my 3.5 gallon drywall bucket is now overflowing with beer cans and now there is a steady procession of pissers going back and forth to the head. I figured out one day that my head will hold about ten cases of beer. After that each roll of the boat sloshes a bit out of the tank vent and it runs down the edge of the cockpit. This acts as a visual and nasal alarm indicating that I should have had the tank pumped the last time I was near a pump out station. And the way these guys are going Iím just waiting for the alarms to go off.
Around lunch time I notice mister green face heading for the head. He lingers in there far longer than he should but since I donít hear any strange sounds I forget about him. When the door finally opens the horrible stench of piss and vomit waft through the cabin. Even the guys outside fishing in the Gale force winds stop what theyíre doing and turn towards the cabin. Holy &@$# I hear at least three times. Poor Mister green face turns sheepishly towards me and asks ďHow do you flush the sink?Ē You mean the head I correct. No. I flushed the head but the sink is full of my breakfast. @&%$! Just then the head alarm goes off. @&$%! I look out back and see the yellow and brown line streaking for the starboard scupper. @#$%&!!!!!!!!!! I guess Iíll be skipping lunch today. In fact Iím starting to taste the peanut butter and honey sandwich I ate four hours ago. Just then I hear the distinct sound of a rod snap. Not only will that cost me but now I have to visit Shore Tackle again with my tail between my legs. @#%$!
Thatís it. Guys, it looks like today is a half day trip. Before someone gets hurt or we break anything else I think we should head for home. And donít forget about old Uncle Joe (Lucky Bastard). Heís still waiting at the dock. Plus youíll beat the traffic and get back to Philly at a reasonable hour. All the while Iím thinking I need a drink and since I donít drink on the boat I NEED to get back ASAP. No arguments so we turn tail and head in.
Backing into my slip is tough in good weather. In a storm it can be downright evil. You have to consider the wind AND the current. Come around. Line it up. And goose it until you develop steerage. If it doesnít work the first time, and you donít get pinned into another boat you pull out and try again. Only once have I ever just given up and tied out on the outside of the bar and wait until the wind died down. This might be time number two. So as I line it up with wet old Uncle Joe yelling encouragement from the dock I slam it into reverse. Right in. The highlight of my day! Dock lines on, fish cleaned. In the bar with the first cold one. Fifteen minutes from dock lines to first beer. Not hard when you only have six small fish to clean. As fast and hard as the rain is falling the fish blood and puke will be washed off the boat by the time Iíve finished my third beer. It will require something much stronger before I attempt cleaning the head!
We settle up at the bar. Five hundred bucks. No tip. Unless you count the case of Iron City beer they left in my cooler. Ironically they took the three cans of IC Light. Whatís up with that. They wonít be back. So, I spent 25 bucks on lures, 100 bucks on the busted rod (If Billy and Joe have mercy on me.), 50 bucks for gas, another 225 bucks per trip for fixed expenses, licenses, taxes, maintenance, slip rent, etc. I netted a cool 100 bucks. Counting my phone and computer time I had at least nine hours into this trip not counting my recovery (drinking) time. I figured I made a whopping $11.11 an hour. Holy crap!! I must REALLY love to fish. It could be worse though. My Philly guys drove four hours round trip plus six hours on the water in a gale force monsoon and they went home with five pounds of fish fillets at around $100.00 per pound. They must really freaking LOVE to fish!!!!
Hopefully my next trip will remind me how much I love my job!! Hope your feeling better.
Love,
Captain Mark Galasso